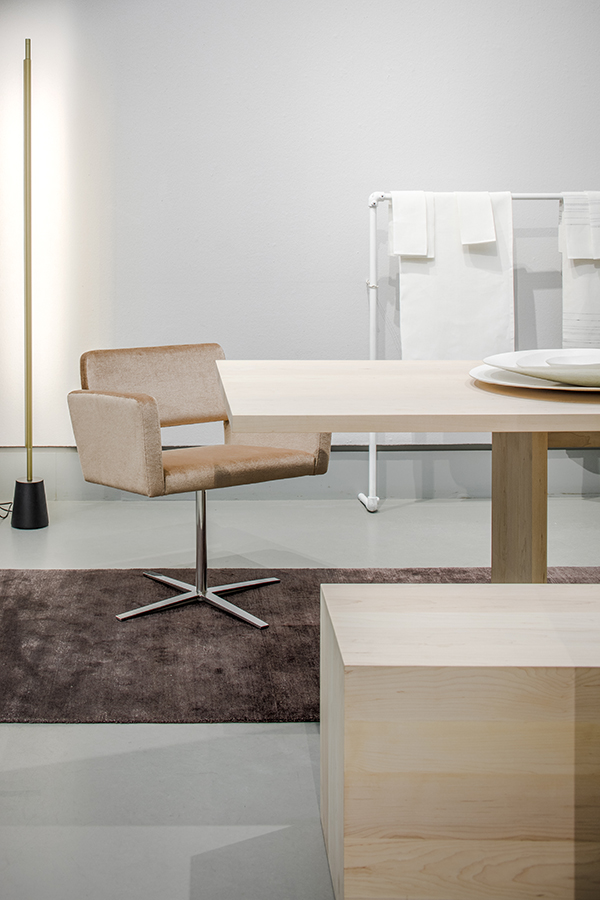 collections
ruud van oosterhout creates a collection of furniture made from the best materials: hand-knotted rugs of wool, mohair and silk, and objects such as mouth-blown crystal vases in subtle pastel colours, and tableware in refined porcelain.

furniture
ruud van oosterhout launched his own furniture collection in 2004, entitled bruut. in this collection the designer strives to create an honest product with an autonomous feel; a combination of the finest materials, specially designed finishes, and superior craftsmanship. With a clear eye for details, sober lines and balanced shapes, his collection includes the latest series of sofas and poufs, and a series of seats as well as tables in solid woods.

crystal
under the name ruud van oosterhout crystal, the designer produces in collaboration with master glassblowers, exclusive crystal objects in limited editions. the "silence" series, for example, is inspired by the "sleeping muse" of brancusi. the voluminous shape of the vase and the tranquil appearance evoke the association with a resting head on a pillow. the bowl offers the counter-shape: the hand palm on which the head rests. the objects in pale powder tones attract attention despite their pure, sober shape.

rugs
ruud van oosterhout designs a series of special carpets in a pure way. he calls it appropriate: 'understated chic'. "as a designer i'm fascinated by the beauty of pure materials such as a blend of mohair and wild silk – without any additives. the technique of the hand spun fibres combined with the traditional crafts and knotting skills of the carpet weavers in nepal, are for me the purest way of working", says the designer.